Think about tomorrow today!
We love Winterberg and the Sauerland. Unfortunately, the bark beetle has also had a significant impact on the forest here. We have therefore decided to support the Therefore we decided to support the reforestation and to participate in the campaign "HEUTE FÜR MORGEN PFLANZEN".
For every booking we plant a tree. With your booking of a holiday flat you contribute to keeping Winterberg and the region as the green heart of the Sauerland and make an important contribution to climate protection!
Here you can find more information about the campaign.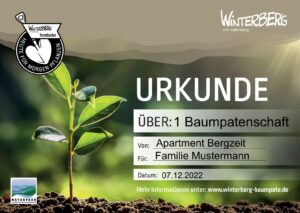 We would be happy to issue you with a certificate for the tree planted for your booking. If you would like a certificate, please send us a message with the e-mail address to which we should send the certificates.
On 5 April 2023, we took part in the tree planting campaign with climate experience hike organised by Winterberg Touristik und Wirtschaft GmbH. You can find the detailed report about the hike and tree planting campaign here.